Hello people of the internet and bloggers alike!
I'm going to change up my usual schedule a bit because, well, I got bored of the old one. Too procedural.
So instead of my usual ♫~Stuck on Repeat~♫ post that I do on Mondays, I'll be sharing with you my new haul of books! Though I may throw in a song, just for you :)
So yesterday I received, on my front porch, a beautiful Amazon box! And boy did I squeal like a little girl when I saw it. I jumped up and down, grabbed the beautiful contraption that carried hours and hours of entertainment, and then tore through said contraption like a lion taking down a gazelle. Like a child devouring the candy they collected after Halloween. Like . . . like . . .ah shoot, I'm all out of analogies…
Anyway! Here are the fabulous books I received in this book haul :)
A Thousand Pieces of You by Claudia Gray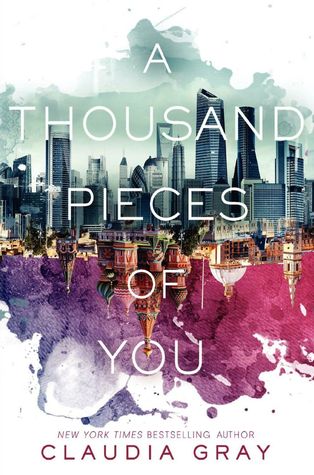 Besides the beautiful cover, this book sounds fantastic. It involves dimensional and time travel and sounds just totally kickass.
Marguerite Caine's physicist parents are known for their radical scientific achievements. Their most astonishing invention: the Firebird, which allows users to jump into parallel universes, some vastly altered from our own. But when Marguerite's father is murdered, the killer—her parent's handsome and enigmatic assistant Paul—escapes into another dimension before the law can touch him.
The Raven Boys Trilogy. Having already read the first book, I am extremely excited for the next two. The author (who has an extremely unpronounceable name) has this writing style that is very quirky and abundant in beautiful sarcasm :)
The Raven Boys (The Raven Boys #1)

For as long as she can remember, Blue has been warned that she will cause her true love to die. She never thought this would be a problem. But now, as her life becomes caught up in the strange and sinister world of the Raven Boys, she's not so sure anymore.

The Dream Thieves (The Raven boys #2)

Blue Lily, Lily Blue (The Raven Boys #3)
The Darkest Minds. Okay, this series is so far one of the best book series I've ever read. The first two were amazing and I cannot wait to read the third.
The Darkest Minds (The Darkest Minds #1)

When Ruby woke up on her tenth birthday, something about her had changed. Something alarming enough to make her parents lock her in the garage and call the police. Something that gets her sent to Thurmond, a brutal government "rehabilitation camp." She might have survived the mysterious disease that's killed most of America's children, but she and the others have emerged with something far worse: frightening abilities they cannot control.


Never Fade (The Darkest Minds #2)

In the Afterlight (The Darkest Minds #3)
The Fifth Wave. This first book was/is so brilliant. I had a massive book hangover after I read it! I couldn't even look at another book for at least a month!
The Fifth Wave

After the 1st wave, only darkness remains. After the 2nd, only the lucky escape. And after the 3rd, only the unlucky survive. After the 4th wave, only one rule applies: trust no one.


The Infinite Sea
Wellp. That's all I've got for this book haul! I hope you check out these books because they're tremendous!
Anyway, here's that song I promised you :)
Don't Let it Get You Down by Johnnyswim
I just found this song this past week and I seriously have not been able to keep it out of my head. I hope you enjoy!
Have a super-tastic day!
-Sheradyn